NIFTIT's comprehensive solution for Thyssenkrupp Elevator (TKE) revolved around a meticulous approach that harnessed the power of Microsoft technologies. Addressing TKE's diverse objectives, our experts embarked on an intricate journey that culminated in a seamlessly integrated SharePoint Online environment. Leveraging Microsoft's robust suite of tools, we tailored the solution to meet TKE's exact requirements.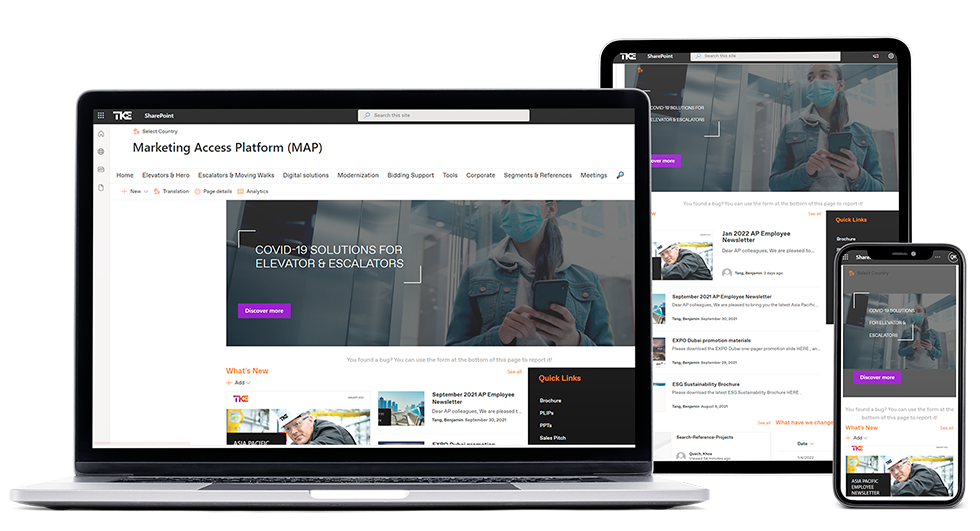 For the objective of enhancing search functionality and user-friendliness, our team implemented SPFX web parts and extensions, enabling a more intuitive and efficient search experience. With a focus on multilingual engagement, we harnessed SharePoint's multilingual features, making content accessible to a global audience in languages such as English, Chinese, and Korean.
To ensure cross-device accessibility, we crafted responsive interfaces for tablet and mobile versions of TKE's SharePoint site. Microsoft's modern development techniques, including SPFX, allowed us to seamlessly adapt the user interface to various devices, aligning with our dedication to user-centric design
By utilizing TKE's branding guidelines, integrating background images, and optimizing the navigation, we showcased our ability to enhance SharePoint's UI/UX. Additionally, through the creation of Power Automate workflows, we demonstrated our acumen for streamlining document management and collaboration processes.
Throughout this project, we continuously delivered on our goals to combine industry best practices with Microsoft's cutting-edge tools, which resulted in a solution that met and exceeded TKE's objectives.